It seems that few parts of the world are untouched by Japanese cuisine - and thankfully.
Sushi culture in Paris ranges from fancy and expensive restaurants to inexpensive roadside sushi specialties that will only cost you a few dollars. There is therefore sushi for all budgets and in all the districts of Paris.
I'm going to share with you some of my favorite places to eat sushi. Are you ready ?
Sushi Market in Paris
20 Mirabeau Street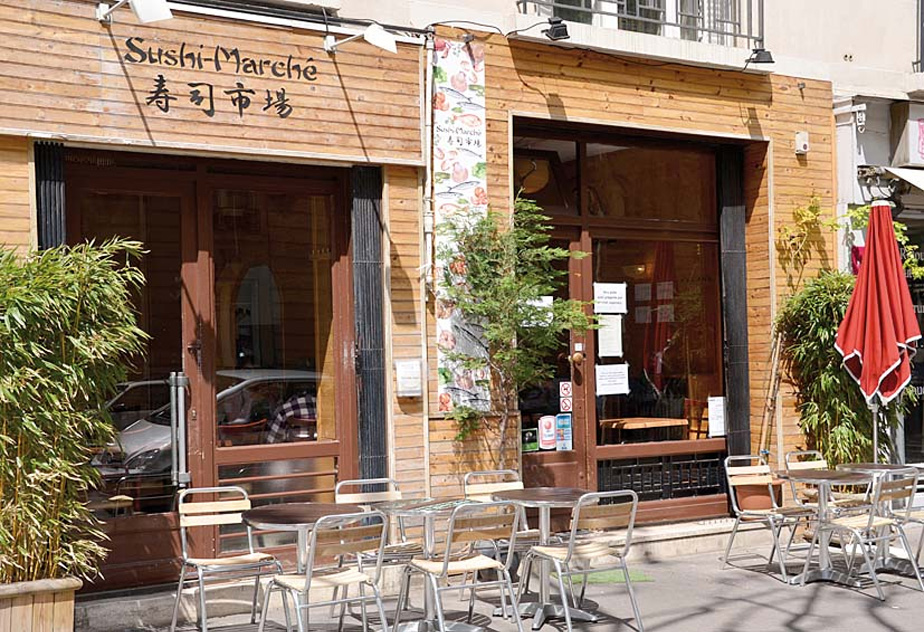 This first sushi spot is located in the lower part of the 16th arrondissement. As it is very far from the center, I recommend you to visit Sushi Marché before or after a visit to the Seine Musicale which is in the same district.
Sushi Marché is authentic Japanese cuisine at its best. The sushi is phenomenal and reasonably priced, but they also have an extensive menu ranging from tempura to eggplant to miso.
Weather permitting, you can dine on the terrace. The restaurant is closed on Sunday and Monday. It is not necessary to book in advance, there is always room for customers.
Customers who have frequented Sushi Marché for years say that when you consider quality and price combined, there is no better place to enjoy sushi in Paris. The trip to the 16th is definitely worth it.
Closest metro line: Auteuil Church.
Blueberry in Paris
6 Rue du Sabot
Blueberry is a maki sushi bar located on the Left Bank, not far from the Orsay Museum. There are free guided tours that will take you from the banks of the Seine to the Jardin du Luxembourg, via Blueberry.
The chef at Blueberry has opted for a concept that celebrates all the colors available in the food we eat. This theme is reflected from the moment you walk into the restaurant and right down to the food presented on your plate.
At Blueberry, fruit is in the spotlight, as the shish chef tries to combine conventional savory sushi with sweeter elements like strawberries or mangoes. The fruity flavors extend to their mixology sector where you can enjoy creative cocktails perfectly paired with your food.
The main focus of the menu is maki rolls, presented in portions of six. I suggest two or three servings per person in an assortment of flavors so you can taste them all. The truffle maki is my favorite.
Noodle and rice dishes are offered for those who are not big fans of sushi.
Closest metro station: Saint-Germain-des-Prés.
Rice & Fish in Paris
22 Greneta Street
I find that the more sushi you eat, the more daring you become with the flavors of sushi over time. I remember eating my very first sushi, a small maki roll filled only with avocado. I chewed it as it was, thought about its blandness and wondered if I needed this dull food in my life before taking a second bite, then a third ...
It took me several meals of plain sushi before I opened up to the concept of soy sauce. The sushi experience has taken to a whole new level, as many of you know.
It didn't take long for me to sprinkle my rolls with ginger - or, dare I say it, infamous wasabi!
Today there are few things that I don't agree to trying on sushi. Rice and Fish, the sushi restaurant on the Right Bank, between the 2nd and 3rd arrondissements of Paris, exists for all the more daring sushi eaters who are open to experimentation for their meals.
Rice & Fish uses sauces, garnishes and creative ingredients to ensure that each dish is more interesting than the last. Combine that with unlimited sake and you've probably found heaven for a few hours.
Closest metro station: Réaumur - Sébastopol.
Takara in Paris
14 Rue Molière
Takara was the first sushi restaurant to settle in Paris. It was founded in 1958 and has served residents of the 1st arrondissement ever since. Takara is a short walk from the Louvre Museum and the Tuileries Gardens.
Despite its location, Takara has managed to keep prices reasonable over the years, considering the quality of the fish. If you want the best deal, go for the special lunch menu, served in a bento box that includes your choice of sushi and soup.
It is important to make a reservation before dining here, the place is almost always packed. The restaurant is open 7 days a week until 11 p.m., giving you the option of having dinner late at night.
Try the azuki dessert!
Closest metro station: Pyramides.
Maki Night Sushi in Paris
Maki Night Sushi is a very different sushi experience in Paris, one that I was very grateful to discover not so long ago.
Instead of having a physical location, Maki Night brings the sushi to you, wherever you are in Paris.
Maki Night opens at 6 p.m. You can order sushi, noodles, and rice dishes from an extensive menu, overnight until 6am the next day. Orders must be placed by phone.
Who knew you could come home at 4 a.m. and have access to fresh sushi delivered to your door? Paris is truly the gift that keeps on giving.
Orders take approximately one hour to arrive from time of call to delivery. Yes, it's much longer than a pizza or burger delivery, but considering the nature of the food and the time it takes to make fresh sushi before you drive across town, it doesn't. is not that bad.