Concept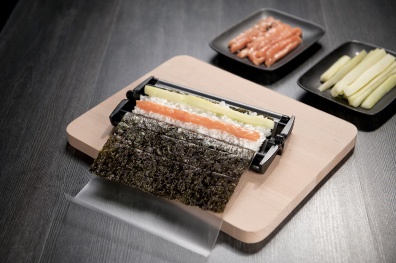 French manufacturing 100%
100% in approved food materials
High quality and durability in specific materials
Guarantee for 3 years (see excluding film)
The Easy Sushi® is ideal and practical for making maki and other rolls.
It has also been studied to satisfy the many demands and universal culinary varieties.
The success of our Easy Sushi® appliance is based on the fact that it allows to realize a very wide range of recipes. You can create savory and sweet rolls, replacing if you wish the traditional Japanese Nori leaf with ingredients specific to culinary cultures such as soy leaves, breads, pancakes, pancakes, vine leaf, cabbage, salad and Much more.
Research at the service of "Finger Food"
After two years of research, aided by latest-generation industrial IT tools for the study and 3D graphics production, our team finally obtained the device they were looking for: a modern, easy-to-use tool, allowing you to make , traditional recipes or more inventive makis and other wraps.
Easy Sushi®
Easy Sushi® was awarded the gold medal in 2007 at the Salon des Inventions de Genève. In 2012, he won the Best Product competition at "The Cookshop & Houseware" in Birmingham. An innovative and easy-to-use tool, Easy Sushi® allows everyone to quickly make perfectly rolled maki, from the most traditional to the most daring.
Easy Sushi® is available in three different diameters: 2.5 cm, 3.5 cm and 4.5 cm.
Eager to meet the hygiene and comfort criteria of our time, Easy Sushi® consists of a food-grade ABS cylinder, which is dishwasher-safe, and a flexible food-grade polypropylene film that rinses with a sponge non-abrasive.
In addition, Easy Sushi® is entirely designed in food materials and is exclusively made in France.
With Easy Sushi®, all you have to do is become a master in the art of making your own maki and rolls… while letting your creativity speak for itself.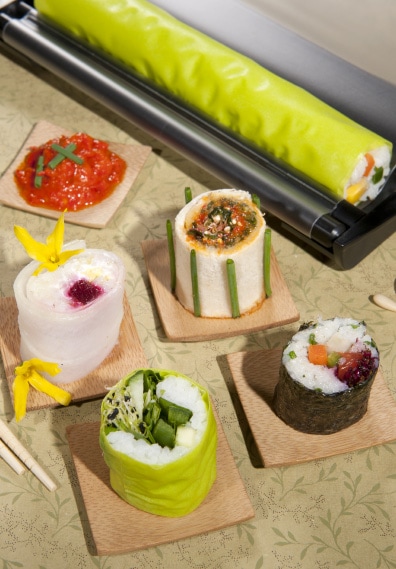 Become a master in the art of making sushi