Believe it or not, preparing homemade maki is within everyone's reach. Indeed, Japanese rolls are very simple to cook. They require few materials and recipes. They are also very quick to make. It is enough to take rice, vegetables and fish. The ingredients are then wrapped in nori and you're done. All that's left to do is taste. Here are 6 good reasons to prepare your homemade rolls.
1 – Guarantee the quality of the ingredients
By preparing maki yourself, you can guarantee the quality of the ingredients: their origins as well as their freshness. This last point is all the more important when it comes to fish. This is one of the reasons why the Japanese like to prepare their own rolls. You can also, in addition to maki, prepare your own miso sauce. This one does not contain fat and sugar and is therefore a good ally to keep the line. Check out our article to find out how to select the fish to make perfect maki.
Do your shopping at your fresh produce merchant or on the market and offer your family or friends quality products. You will thus contribute to supporting the local economy!
2 – Cheaper than a Japanese restaurant
Maki are delicious and very nutritious dishes. Just make them at home. Even if you don't have much cooking experience, you can learn how to make maki. The necessary equipment is a plus, but you can also learn to do without. It is important to take the time to understand the steps and the ingredients before preparing maki. In addition, preparing your maki yourself represents a significant saving compared to a Japanese restaurant.
Making homemade maki will save you time and money. By preparing your maki yourself. It is possible to save up to 30% on the price of your meal by preparing your own dish.
3 – Have fun without feeling guilty
It's one of life's pleasures to eat maki prepared at home. But few people know that making maki is also a great way to have fun without feeling guilty. You can satisfy your hunger by eating fewer calories and less fat, and you can choose all the ingredients you want. We provide you with practical advice as well as recipes for making maki, discover our recipes.
4 – Quick preparation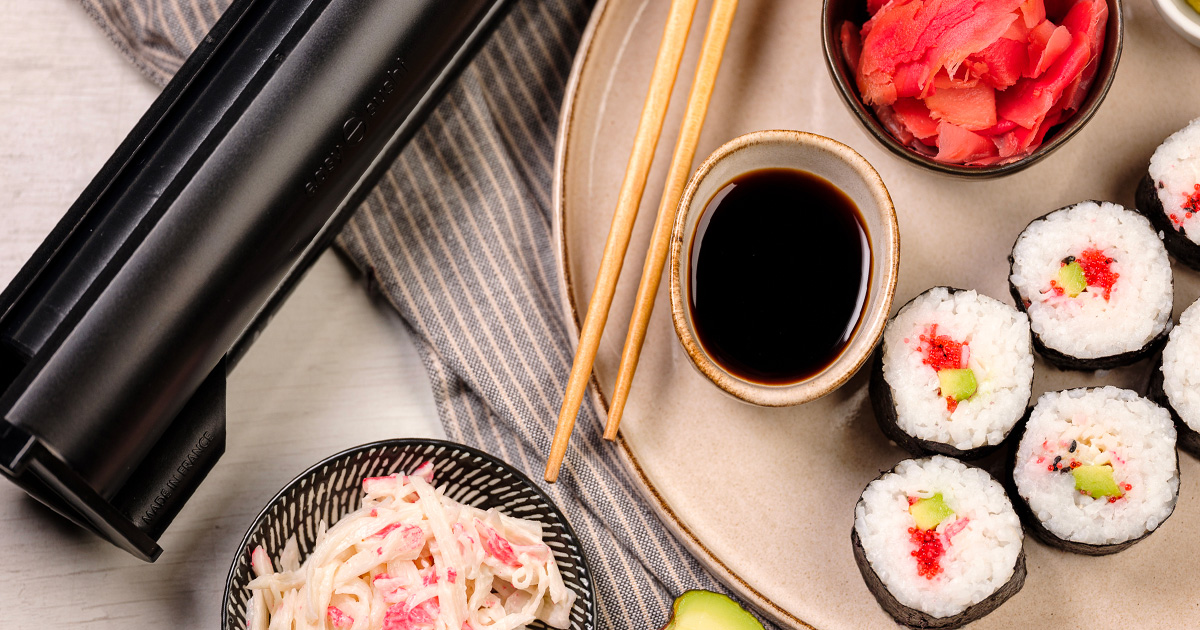 Make-your-own maki is a good choice for quick meals with little preparation. That doesn't make them any less delicious. They are an alternative to local makis. There is no waiting time, and it is more economical.
You can make them in different ways, by hand if you don't have any tools or with the traditional mat. However, these two methods require a little practice in order to make beautiful maki.
That's why we created Easy Sushi®, the maki machine that allows anyone to make perfect maki in record time. Whether you are comfortable in the kitchen or not, Easy Sushi® has been designed to simplify the process of preparing Japanese maki as much as possible. Discover our maki machine.
5 – Maintain your line
By preparing your homemade maki, you can select the best ingredients to keep the line and make you happy at the same time. Here is a list of ingredients for "light" maki: 20 g rice-style konjac, 20 g rice vinegar, 1 teaspoon of stevia, 1 teaspoon of salt, 3 tablespoons of soy sauce, fresh ginger very thinly sliced and 100 g of salmon or surimi or tuna or sea bream.
6 – Make others happy
Make the people you love happy and prepare them yourself. Designing makis at home can be a fun activity to share with family or friends. Your guests will also appreciate being able to choose the flavor they want.