Sushi machine: perfect sushi thanks to the Easy Sushi® sushi maker
Discover the ideal solution to make perfect makis thanks to the sushi machine by Easy Sushi®. Easy and fast, the sushi maker is a device within the reach of the greatest number and will allow you to make multiple Japanese cooking recipes.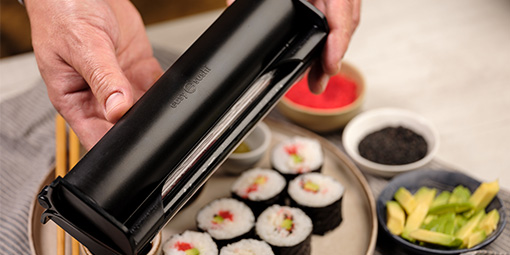 Easy Suhi® 3.5 sushi machine for making maki and rolls
Sushi machine: step by step
Attach the rod of your sushi machine
Make a rice base and add the garnish
Take out the roll, wait 1 min and enjoy
Where to buy a sushi machine?
Easy Sushi® offers different types of sushi machine: Easy Sushi® 2.5, Easy Sushi® 3.5 and Easy Sushi® 4.5. Only the diameter of your makis and wraps changes, so there is something for everyone. You will also find on the Easy Sushi® store different products from the Asian gastronomy : wasabi, soy sauce, rice vinegar, ginger, Japanese rice, sesame and more.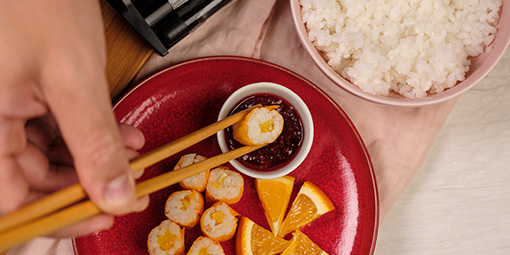 Prepare delicious makis with the Easy Sushi® sushi machine
To go further with the Easy Sushi® sushi machine
But that's not all, in addition to offering Japanese culinary products, through its blog, Easy Sushi® regularly offers you different tips and tricks: how to cook your sushi rice (with and without a cooker)? how to season sushi rice? As well as various original makis and rolls recipes, both savory and sweet, such as: cucumber, cooked tuna, shrimp or even surimi. From our side, our favorite preparation remains the indestructible smoked salmon maki, avocado and its nori seaweed sheet.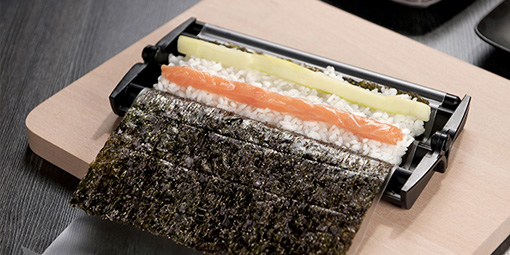 No more maki rolls with the Easy Sushi® sushi machine
All about the sushi machine
Bamboo mat: traditionally used to prepare maki and sushi. This ancestral method of preparation takes longer and requires more know-how.
California Roll: maki recipe, usually made with the seaweed leaf containing cucumber, crab and avocado and sprinkled on the outside with sesame seeds.
Asian cuisine: Asian cuisine is mainly represented by sushi, makis, noodles, bakes and many other delicious dishes.
Tofu: or soy cheese is a food of Chinese origin, resulting from the curdling of soy milk. It is a white, soft, slightly odorous paste with a rather neutral taste, constituting an important basis of the Asian diet.